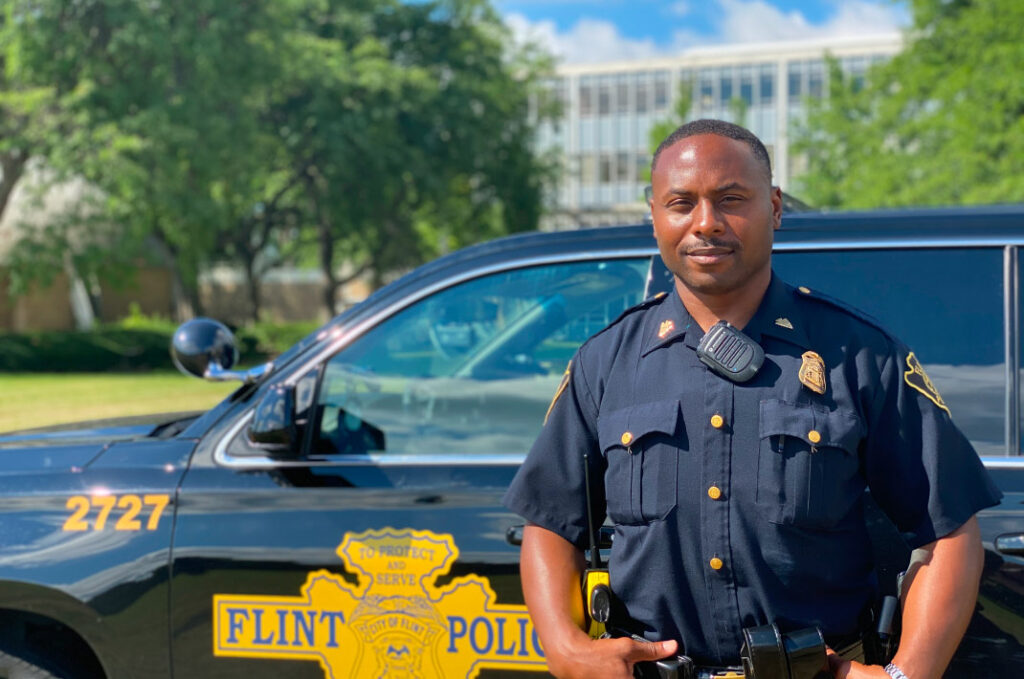 Protect and serve the citizens of Flint, MI and get great benefits by joining the Flint Police Force.
Join our team! Full and part-time officers and new recruits needed. Annual raises. Full benefits. New recruits get paid while they attend the police academy—and we pay your tuition. Earn up to $30.11 / hour plus overtime. Sign on bonuses available!
Mission Statement
The City of Flint Police Department is committed to protecting and serving all the people of our community with respect, fairness and compassion. Acting in partnership with our community to protect life and property, we strive to prevent crime and preserve peace, order and safety. We will seek just solutions with honesty and integrity. We encourage, need, and expect community involvement to work toward a mutual goal of enhancing the quality of life within our city.
Vision Statement
The Flint Police Department will be the anchor resource in a collaborative effort with the community, businesses and visitors to the City of Flint. We will provide model law enforcement services with an emphasis on innovation and technology.
Police Chief: Terence Green
On September 25th, 2014, Terence was sworn in as the Chief of Police of the Mt. Morris Township Police Department. Chief Terence Green started his career path in law enforcement at Minnesota State University Moorehead where he earned a Bachelor of Science degree in Criminal Justice in 1991. Upon graduation, he returned back to Michigan and in 1992, was hired by the Genesee County Sheriff's Department as a corrections officer. While working full time as a corrections officer, Terence was sent to paramedic training and successfully graduated as a licensed paramedic in 1994. Following his paramedic training, Terence was then sent to Delta Police Academy and graduated as a certified police officer in 1995. He's moved through many roles from Sergeant to Captain. His experience includes details with the Drug Enforcement Agency, Flint Area Narcotics Group and the Genesee County Sheriff's Department narcotics enforcement.
Patrol Operations Bureau
The Patrol Operations Bureau is staffed by uniformed personnel who respond to 911 calls for service and patrol the City of Flint in an effort to detect and prevent crime and render aid to those in need of assistance. The Patrol Operations Bureau consist of 4 patrol squads, the traffic division and support services such as the Downtown Beat Officers.
Traffic Bureau
The City of Flint Police Department Traffic Division oversees the day to day operations of Accident Investigation and Traffic Enforcement. The Division covers several areas including the Neighborhood Safety Officer Program which focuses on blight and abandoned vehicles. There is a Hit and Run Investigations unit that also manages the School Crossing Guard Program. The police officers themselves are assigned to crash investigations and selective enforcement responsibilities. They respond to citizen's complaints reference traffic issues and target areas, where high volumes of crashes occur. Our officers have been trained in the use of Radar and Laser for speed enforcement. They have also been trained in Standardized Field Sobriety Testing (SFST), Advanced Roadside Impaired Driving Enforcement, Preliminary Breath Testing (PBT) and Data Master Breath Testing for Operating While Intoxicated and Drugged Driver Enforcement.
Criminal Investigation Bureau
The Criminal Investigation Bureau is comprised of detectives who investigate crimes that occur within the City of Flint. The detectives assigned to the Criminal Investigation Bureau are assigned in two groups, Crimes Against Persons and Crimes Against Property. Currently the City of Flint detectives work side by side with detectives from the Michigan State Police. Known as the Major Crimes Unit, these detectives assigned to this colaberative unit investigate violent felony crimes that occur in the City of Flint. A detective's role when investigating a case is to gather all of the facts of a case. Those facts are then presented to the appropriate prosecutor's office, who then determines what charges, if any, will be issued on the case.
Flint Police Customer Service Survey
Respected Citizen,
We want your assistance in evaluating how well we are doing. Please take a few moments to provide information on your thoughts about or experience with the Flint Police Department.
Think about the block that you are living on right now. I'm going to ask you about some problems other blocks have had, and I would like you to tell me whether or not these are big problems, little problems, or not a problem at all on your block.