Current Water Quality Results
The current level of Lead is 9 parts per billion (ppb) for our last 6 months of testing, July-December 2022. That is below the federal standard of 15 ppb. Additional information about the Lead and Copper Rule and water quality can be found on the historic overview.
Water Quality Reports
The 2023 Water Quality Report will be posted July 1, 2024.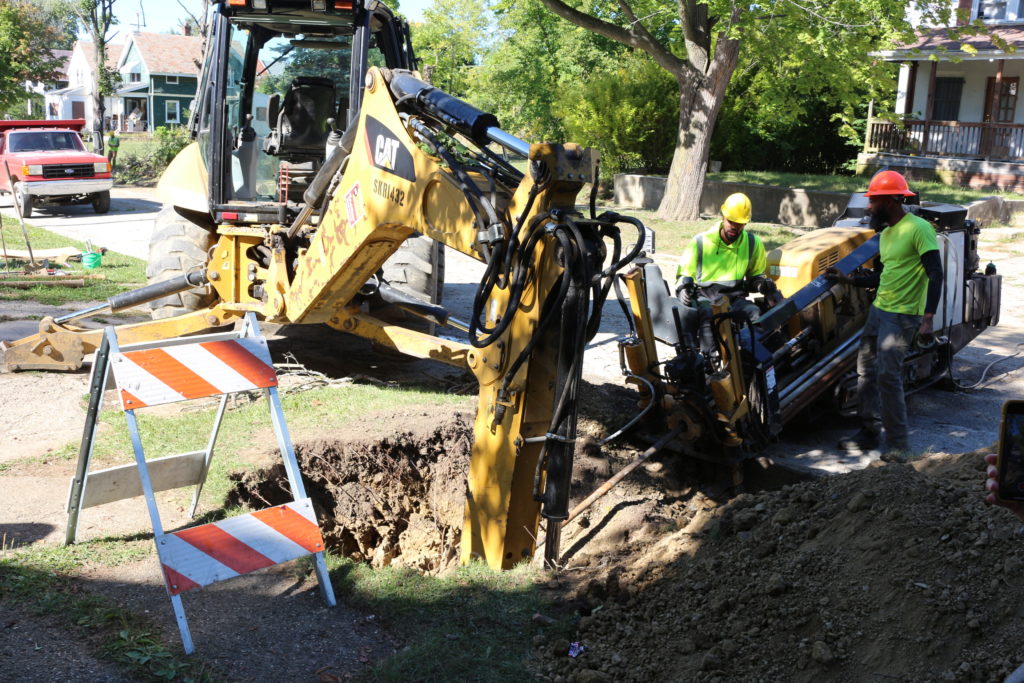 Service Line Replacements
Approximate Investment: $97,019,659
Estimated completion: August 2023
This massive project replaces lead and galvanized steel residential water lines from the home to the curb and the curb to the street throughout the City of Flint. Over 97% of lead service line replacements have been completed. Residents must give permission for crews to check water service lines and access to their homes to replace pipes if lead or galvanized lines are discovered. All work is done AT NO COST to residents. The deadline for residents to participate in the service line replacement program has been extended, but residents are advised to immediately opt-in to the program. All pipe replacement is expected to be completed August 2023 and yard restoration work will be completed by December 2023. For more information, call (810) 410-1133
Secondary Water Source
Approximate Investment: $14,931,000
Completed: Spring 2022
This critically important project will provide the City of Flint with a backup water source for use in case of an emergency. The City of Flint contracts with the Great Lakes Water Authority for water through a 30-year contract agreement. This project provides a link between the City of Flint's existing water infrastructure and the Genesee County Drain Commission, which would be used only as an emergency backup in case service from GLWA is ever disrupted. Both the Genesee County Drain Commission and GLWA source their water from Lake Huron. The project involved laying roughly 7 miles of pipe, mostly along a Consumers Energy easement, from Frances Road to the new Chemical Feed Building on Dort Highway. The connection to a newly completed secondary water line occurred in Spring 2022. Other related supporting infrastructure improvements will continue through 2023.
Water Quality Monitoring
Approximate Investment: $374,400
Completed: 2021
This project installed six water quality monitoring stations that provide virtually instantaneous and ongoing assessments of the water quality of Flint's municipal water system. This information is sent to the Water Treatment Plant and Chemical Feed Building. This monitoring is in addition to regular lead and copper monitoring required by the Clean Water Act. This twice-a-year-testing measures lead levels of the most at-risk homes and is used as the official water quality measurement.
Chemical Feed Building
Total Investment: $5,426,897
Completed: Winter 2021
This project is constructing a new, state-of-the-art building and related infrastructure to ensure water is treated safely and effectively. The main building in this project is located at the Flint Water Treatment Plant on Dort Highway.
Household Water Meter Upgrades
Approximate Investment: $11,000,000
Estimated Completion: 2022
All household water meters throughout the City of Flint are being replaced to ensure that the meters are working correctly and that households are charged for actual water usage. Water meter replacement is mandatory for all City of Flint water customers. Because the old meters use antiquated and often malfunctioning technology, in many cases residents have been paying estimated water bills. Residents will receive a letter in the mail when crews are in their area replacing meters to set up an appointment and crews will also go door-to-door. In most instances, the water meter will be installed by a contractor hired by the city, Vanguard Utility Services, but also are being done by City of Flint workers in some instances. It takes about 20 minutes for the water meter replacement. The meters are the Badger-LTE M model, which uses cell towers to transmit water meter readings. Mayor Sheldon Neeley also created the "New Meter New Start" program so that residents will not be charged large balloon payments for water usage before the new meters were installed (but that hadn't been charged to residents because estimates were used). About a month after the new meter is installed, customers also have the option of downloading an app for their phone. Called "Eye on Water", it provides up-to-the-minute water usage information and can alert residents to leaks. If residents have any questions or concerns, they can contact our customer service department at (810) 766-7015.
Dort and Cedar reservoirs and pumping stations
Approximate Investment: $10,310,632
Estimated Completion: 2022
This project will rehabilitate two water reservoirs, which hold 20 million gallons each, and the pumping stations that get the water from the reservoir to the Flint water system. The Dort Reservoir is completed and its pumping station is set for completion by the end of 2021 or early 2022. The Cedar Reservoir and Pumping Station renovations will follow. These underground storage tanks give the City of Flint additional emergency water reserves and allow the city to buy water when it is cheapest and store it for use in peak (more expensive) water usage times. Funding for this project has been pulled out of WIIN funding and alternate funding is being asked for.
Northwest Transmission Line & Water Main Replacements
Approximate Investment: $17,317,403 for Water Main Replacements
Approximate Investment: $5,344,277 for Northwest Transmission Line
Estimated Completion: TBD
These projects will replace some of the main pipes that transport water throughout the City of Flint. Included in plans are repair and/or replacement of the Northwest Transmission Line, which runs east to west across the northside of Flint, as well as smaller water mains including Court Street, Kearsley Street, Dupont Street, Atherton Road, and Longway Boulevard. Dupont, Court, and Atherton replacements are under way or completed. Funding for this project has been pulled out of WIIN funding and alternate funding is being asked for.
Local Assistance/Capacity Development
Approximate Investment: $2,653,288
Completed: 2021
This funding helped the City of Flint to add personnel and expertise to oversee the projects and construction planned as part of the city, state, and federal response to the Flint water crisis.
Please note: All information is based on current knowledge and understanding. The information contained here, especially exact dollar amounts and timelines, can change. This page will be updated as additional information becomes available.
Information on Flint's water quality, construction project status updates, financial reports, public comment opportunities and meeting notices may be found below as part of Mayor Sheldon Neeley's commitment to transparency in keeping residents and businesses informed on progress around the city's multi-million-dollar water infrastructure projects.