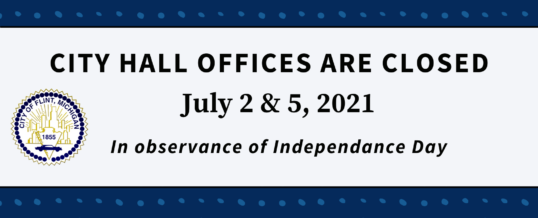 FLINT, Michigan — Please be advised that City Hall offices are closed in observance of Independence Day on Friday, July 2 and Monday, July 5, 2021.
City Hall will reopen at 8:00 a.m. on Tuesday, July 6, 2021.
Reminder: Flint City Hall partially reopened on Monday, June 28, 2021, as part of the City's phased-in reopening plan.
The following offices are open from 9 a.m. to 1 p.m. Monday-Friday:
Customer Service
Assessor's Office
Building and Safety (in the South Building)
Office of Public Health
City Hall Front Desk
The walk-up customer service window will continue to be open from 9 a.m. to 5 p.m. daily. All City of Flint offices remaining operational can be reached by telephone even if they have not yet reopened to the public.
###