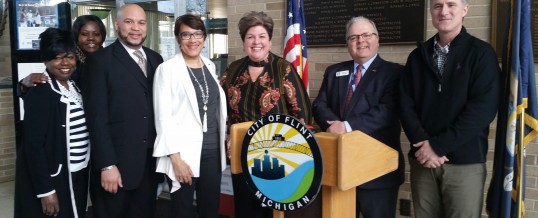 March 2, 2018 (Flint, Mich) Mayor Karen Weaver and Flint's Interim Director of Planning and Development, Suzanne Wilcox, announced Friday that the City has joined forces with the Flint Housing Commission to address long-standing challenges facing the Atherton East public housing development and surrounding community. Officials with the Michigan State Housing Development Authority (MSHDA) recently approved an application to award a 9% Housing Credit to assist with improvement efforts with the Clark Common I project.
"The nine percent tax credit amounts to about $1.5 million which is significant," said Mayor Weaver. "We have employees working hard to make this city better and improve quality of life for our residents and I thank MSHDA and the Flint Housing Commission for working with us and doing what they can to help make ensure this project will be successful."
The Flint Housing Commission selected Norstar Development to complete the relocation of Atherton East. Funding for this will come from numerous sources. An application was submitted to U.S. Department of Housing and Urban Development (HUD) last year for $30 Million to relocate Atherton East and improve education, safety, and economic outcomes for residents of South Flint.
The tax credit from MSHDA to assist with the completion of Phase I development of the new Atherton East, Clark Commons project.
"The nine percent low income housing tax credit is in the amount of $1.5 million," explained Suzanne Wilcox. "The award was announced in advance of the Choice Neighborhoods implementation grant submission in order to strengthen our application. We hope it shows the work we are doing and the progress that we are making to make Flint a better place for all our residents."
The Choice Neighborhoods Planning Grant helped the City and FHC develop the South Flint Community Plan (SFCP). SFCP is a detailed document outlining projects to implement the City of Flint Master Plan in a targeted area. The SFCP planning process was community-driven and the final plan details strategies for Housing, Neighborhood and People.
Development on the North Saginaw site is expected to begin in six to twelve months. The first of four phases, Norstar will build 62 units of mixed-income housing. The complex will consist of a variety of townhome, duplex, and apartment style buildings; 39 of which will be reserved for Atherton East families. The remaining 23 units will be affordable and market rate housing offered to the public.