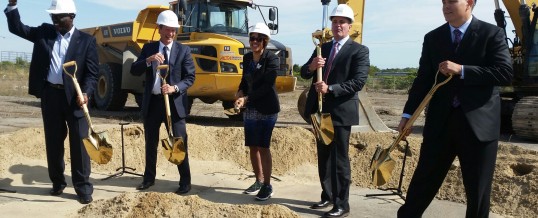 (FLINT, Mich.) – "This is a great day for the City of Flint," said Flint Mayor Karen Weaver as she took to the podium Monday at the official ground breaking ceremony for the new Lear Corporation facility to be built in the town also known as the Vehicle City.
"I want to thank the leaders of the Lear Corporation for their vision and for believing in Flint," Weaver said.
Lear Corporation (NYSE: LEA), a leading global supplier of automotive seating and electrical systems, today broke ground on a new seat manufacturing facility located on the former site of the historic Buick City complex in Flint, Michigan.
Ray Scott, executive vice president of Lear Corporation and president of Lear's seating business, was joined by Flint Mayor Karen Weaver and Tom McMillen, executive director, Interiors & Safety, Global Purchasing & Supply Chain at General Motors.
Lear's Flint seating plant will be the first "ground-up" plant construction in Michigan for more than 15 years. Plans call for the 160,000-sq.-ft. facility to begin production of seats for just-in-time delivery to the nearby General Motors Flint Assembly plant by April 2018. The world-class facility will employ approximately 600 workers, when it reaches full production.
Lear chose the Buick City site for a number of reasons including: its proximity to the homes of many of its workers, the location of the GM plant, as well as the corporation's objective to give back to the communities in which it operates. The Flint area has been hard hit in recent years, and Lear also wants to bring manufacturing back to the area since many manufacturing jobs in Flint have been lost over the past several decades.
Flint holds sentimental value for Ray Scott, who grew up in Flint and worked while attending the University of Michigan-Flint delivering parts just-in-time to General Motors.
"I have a lot of pride in Flint; it helped shape who I am today," he said. "We had options for other locations that we considered, but what was important to us was that this was the right thing to do from a community standpoint. To build a modern, state of the art facility at that location is very symbolic and historic."
Lear worked with GM and the city of Flint while deciding on the location for the new manufacturing facility. The Michigan Strategic Fund board approved a $4.35-million Michigan Business Development Program performance-based grant to support Lear's $29.3-million capital investment at the site, which includes the subassembly and final assembly of automotive seats.
"We have a long relationship with Lear during its 100 years of business," said Mr. McMillen. "Lear has earned GM's coveted Supplier of the Year designation 16 times and our partnership continues as we both commit to this next phase for Flint.  Our next-generation vehicles to be produced in Flint are our newest step in almost $3 billion we have invested in Flint since 2009."
"We are proud to partner with Lear on this exciting new project," said Mayor Weaver. "We are pleased to have established a good relationship with a company that has demonstrated it supports the communities where it does business.  This project will provide opportunities for Flint residents and an overall positive impact on our local economy. Both Lear and the City of Flint are looking positively to the future."

About Lear Corporation
Lear Corporation (NYSE: LEA) was founded in Detroit in 1917 as American Metal Products.  In 2017, the Company will celebrate its 100th year anniversary.  Lear is one of the world's leading suppliers of automotive seating and electrical distribution systems. Lear serves every major automaker in the world, and Lear content can be found on more than 400 vehicle nameplates.  Lear's world-class products are designed, engineered and manufactured by a diverse team of approximately 156,000 employees located in 38 countries.  Lear currently ranks #151 on the Fortune 500.  Lear's headquarters are in Southfield, Michigan.  Further information about Lear is available at lear.com or follow us on Twitter @LearCorporation