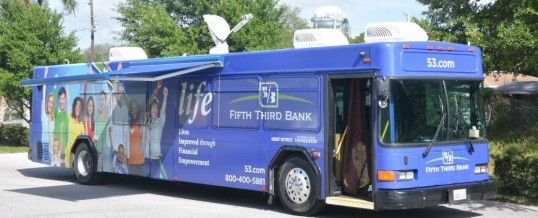 FLINT, Mich – In partnership with the City of Flint, the Fifth Third Bank Financial Empowerment Mobile/ eBus, will be in Flint on Wednesday, August 23 and Thursday, August 24. Flint residents are encouraged to take advantage of the tools and resources Fifth Third's eBus has to offer.
The 40-foot bus has been retro-fitted to serve as a mobile classroom. It is equipped with 14 personal computers and satellite technology. The bus will be staffed with Fifth Third bankers and representatives from non-profit community organizations ready to provide financial information geared towards potential homebuyers, small business owners, and job seekers. Once onboard, visitors can also request their credit report to review with a certified housing counselor from Metro Community Development.
"We are committed to empowering the community through financial education," said Melissa Overton, Vice President of community and economic development for Fifth Third. "The eBus allows us to serve people where they live and work, and provide the knowledge and tools needed to help them take control of their financial futures." 
Flint residents will also be able to access Fifth Third's popular initiative "NextJob" and receive helpful tips for résumés, cover letters, interviews, networking and other related topics. 
On Thursday, August 24, 2017, Fifth Third Bank, the City of Flint, and Flint Development Center will host the eBus in front of the Flint Development Center at 4121 Martin Luther King Ave, Flint, MI from 10AM to 2PM. A variety of free services to improve both financial and physical health will be offered to the public. 
During its tour of Flint, the eBus will also stop at Mott Community College, Workforce and Economic Development on August 23, 2017. The eBus will be in the parking lot of the Workforce Education Center/Garfield J Wagner Building located at 709 N. Saginaw St. from 10AM to 2PM and open to the community.
Additional participants include:
GST Michigan Works! will be available to assists jobseekers in searching for local area employment opportunities along with information on job training assistance and coaching.
Genesee Health System Mobile Unit will provide mental health support and intervention to the Flint community including case management services, in addition to therapeutic and skill building services . 
As part of initiatives supported by a Centers for Medicare & Medicaid Services (CMS) grant, Greater Flint Health Coalition (GFHC) will be partnering with various community-based organizations in an effort to connect Greater Flint area residents to available health care coverage and services. On-site application assistance, explanation of benefits, and coordination of services will take place at this event to ensure that all children and families are aware of and connected to expanded services available to them.
Flint STRIVE will provide life changing support and training assistance that leads to livable wages for those seeking employment.
Best Practices Consulting Services, LLC. is calling all small business owners: construction, janitorial, hair & barber salons, and home-based business with a business idea but not sure what to do next to attend a "Lunch and Learn" from Noon to 1:30 p.m.  Those looking to enhance their existing small business and would like help designing a growth strategy should attend. RSVP via email at: [email protected] or call (810) 354-5742.

About Fifth Third Bank
Fifth Third Bancorp is a diversified financial services company headquartered in Cincinnati, Ohio. As of June 30, 2017, the Company had $141 billion in assets and operated 1,157 full-service Banking Centers and 2,461 ATMs in Ohio, Kentucky, Indiana, Michigan, Illinois, Florida, Tennessee, West Virginia, Georgia and North Carolina. Fifth Third operates four main businesses: Commercial Banking, Branch Banking, Consumer Lending, and Wealth & Asset Management. Fifth Third is among the largest money managers in the Midwest and, as of June 30, 2017, had $330 billion in assets under care, of which it managed $34 billion for individuals, corporations and not-for-profit organizations through its Trust and Registered Investment Advisory businesses.