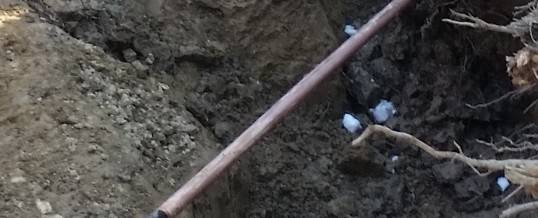 FLINT, Mich. — Lead-tainted service lines at 144 homes have been replaced so far as part of the second phase of Mayor Karen Weaver's FAST Start initiative, with 58 homes getting new copper pipes last week.
Crews from three area companies are starting the fourth week of work since the current phase of the FAST Start initiative got underway. They're expected to complete pipe replacements at 200 to 250 homes by the end of September, extending the mayor's efforts to restore safe, clean drinking water to Flint residents.
"In just three weeks, local crews have been able to replace lead and galvanized steel pipes at 144 homes," said Mayor Karen Weaver. "We can continue to make great progress with help from Flint residents by signing the consent forms being provided by volunteers to give work crews the access to their homes needed to replace pipes."
Work crews plan to replace service pipes this week at homes on Brownell Boulevard between Dayton Street and Dartmouth Street, Arizona Avenue between Lewis Road and Franklin Avenue, Colorado Avenue between Lewis Road and Franklin Avenue and Wyoming Avenue between Lewis Road and Franklin Avenue.
Mayor Weaver launched the FAST Start initiative to help resolve a number of problems created after a state-appointed emergency manager switched the City's water source to the Flint River in 2014 without the necessary corrosion control chemicals being added. The corrosive water removed a protective coating on the inside of the pipes, causing lead to leach into the water flowing to homes and businesses in the City of Flint.
This phase of the pipe replacement program is also being referred to as the City's pilot study as it will help the City get a better handle on the true cost of replacing service lines at each home. During the first phase of FAST Start earlier this year, service pipes to 33 homes were replaced.