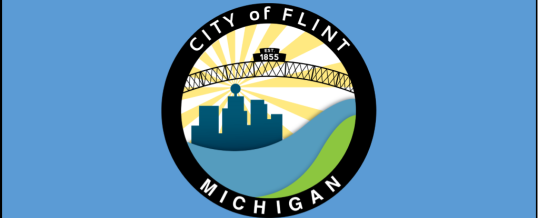 February 9, 2016– Flint, MI—  Mayor Karen Weaver today outlined an estimated $55 million public works project that aims to remove and replace Flint's residential lead service lines as quickly as possible, with first priority given to high-risk households.
Weaver noted that a team of technical experts from the Lansing Board of Water & Light (BWL) met Monday with the city's public works staff to move planning for the project forward.  The BWL pioneered lead pipe removal techniques that officials believe can be used to efficiently replace the pipes in Flint much faster and at a significantly lower cost than traditional methods. The BWL has removed 13,500 lead pipes in Lansing over the last twelve years at a cost of $42 million.
"We're going to get rid of these lead pipes one house at a time, one street at a time, one neighborhood at a time, until they are all gone," Mayor Weaver said.  "We have to start restoring people's confidence and trust in our city's water supply.  We cannot afford to wait any longer."
Mayor Weaver said her Fast Start plan will require extensive coordination between city, state and federal officials, as well as funding from the Michigan Legislature, the U.S. Congress, or both.  A preliminary project scope developed by the BWL indicates that up to 15,000 lead pipes could be removed in one year under optimal conditions.  Weaver said the full-scale operation will require dozens of work crews and a robust administrative and logistics team at an estimated cost of $55 million.
"I invite Governor Snyder and his team to pledge their full cooperation to help us get this done," Weaver said.  "And I call on the Legislature and Congress to appropriate the necessary funds so we can get started as soon as possible.  The people of Flint have already paid with their lives, health and quality of life."
Mayor Weaver was joined at today's press conference by retired National Guard Brigadier General Michael C.H. McDaniel, who is also a professor of law at Western Michigan University Cooley Law School. Weaver appointed McDaniel last week to lead the Flint Action and Sustainability Team (FAST), which will coordinate Fast Start activities between the BWL, City of Flint, state and federal departments and agencies, and other stakeholders.
McDaniel said the Fast Start team is working on a detailed timeline for the project but has not yet determined when field work will start.  He also cautioned that the preliminary cost estimate for the project could change as more work is done to fully assess Flint's water infrastructure.
"How quickly we can start pulling pipes out of the ground depends on timely approval of the necessary funds, completion of the Fast Start work plan, then ramping up the logistics and field operations," McDaniel explained.  "We will continue working diligently to move that process forward."
"We're going to get the lead out of Flint," Mayor Weaver concluded.  "We owe it to our children to make it happen as soon as possible."