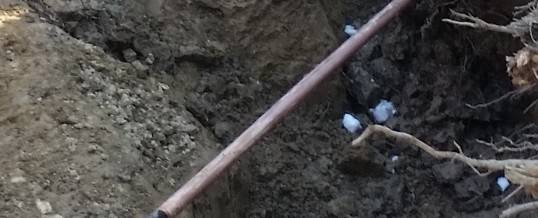 December 19, 2016 (FLINT, Mich) — Lead-tainted service lines at 625 homes have been replaced so far as part of Mayor Karen Weaver's ongoing FAST Start initiative.
Crews from two area companies are replacing lead and galvanized steel service lines leading from the street to the water meter in residents' homes during this third phase of the FAST Start initiative, extending the mayor's efforts to restore safe, clean drinking water to Flint residents. Lines leading to abandoned homes have been cut and capped.
In addition to the 625 homes that have gotten new service lines so far, 75 homes were discovered to have copper service lines that didn't need replacing. City records noting where lead service lines exist in the city have proved largely unreliable, and records don't exist for some parcels. Crews did not replace the copper service lines leading to those homes.
FAST Start coordinator Michael McDaniel said winter weather has slowed the work crews, which were replacing service lines at an average of 50 homes a week this fall. But he added that work will continue as long as possible. Mayor Weaver would like to have 1,000 service lines replaced during the third phase of her FAST Start program.
The fourth phase of FAST Start begins in the spring, with thousands more homes scheduled to get replacement pipes. A study by University of Michigan professors working with leaders of the FAST Start initiative estimates that as many as 29,100 Flint residences have lead or galvanized steel service lines that need to be replaced.
Mayor Weaver launched the FAST Start initiative to help resolve a number of problems created after a state-appointed emergency manager switched the City's water source to the Flint River in 2014 without the necessary corrosion control chemicals being added. The corrosive water removed a protective coating on the inside of the pipes, causing lead to leach into the water flowing to homes and businesses in the City of Flint.