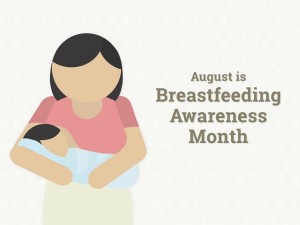 Flint, MI– Breastfeeding is the foundation of lifelong good health for babies and mothers.  With no additional burden on household income, breastfeeding is a low-cost way of preventing hunger and malnutrition in all its forms, and ensures food security for babies, even in times of crises. The Genesee County Board of Commissioners and the Genesee County Health Department would like to honor breastfeeding mothers and the families and businesses who support them.
The Genesee County Health Department's Women, Infants and Children Supplemental Nutrition Program (WIC) provides breastfeeding support and education to all moms and their families.  71% of those moms who receive WIC services during the prenatal period choose to initiate breastfeeding.
According to Sara Harvey, International Board Certified Lactation Consultant at the Genesee County Health Department WIC Program, educating families before babies are born and providing consistent, accessible support through the first year of life and beyond are keys to helping moms and babies develop strong feeding relationships and maximize the positive health benefits for both.
For more information on breastfeeding, call the Genesee County Health Department WIC
Breastfeeding Peer Counselors at (810) 237-4606.
Genesee County Health Department. Your Health. Our Work
BREASTFEEDING AWARENESS MONTH_8-27-18a