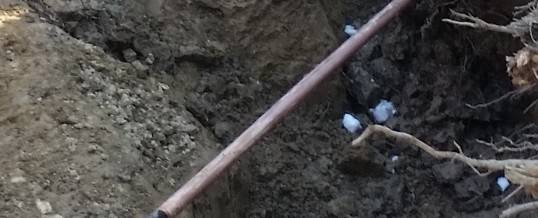 July 13, 2016 (Flint, Mich) — Mayor Karen Weaver and her staff will be asking Flint City Council members to approve two awards for contracts over the next week for work on what will be the City's pilot study on replacing lead tainted service lines in Flint. The contracts will be awarded to Flint companies, Goyette Mechanical and WT Stevens Construction, Inc.
The state conducted the initial pilot phase of Mayor Weaver's FAST Start initiative earlier this year where lead tainted pipes leading to 33 homes in Flint were replaced. Now, City leaders have decided to conduct their own pilot study.
"The goal of the City's pilot study is to basically do an analysis of the cost to replace the water service lines," said Brigadier General Michael McDaniel, manager of the FAST Start project. "The plan is to do up to 250 homes. We know what our estimated cost is per home, but with other groups reporting different numbers and after receiving higher bids than expected to do the job we feel this is an important step to help determine the most logical and efficient way to proceed."
The funds for the City's pilot study will still come from the $2 million from the state (money it reimbursed the City of Flint for what it paid to reconnect to the Detroit Water System last fall). However, the plan is to use only half of the $2 million at the most for the pilot study, replacing water service lines at up to 250 homes.
As City leaders take steps to move forward with the next pilot study, Mayor Weaver said officials are also working to prepare a new Request for Proposals (RFP) so work to replace even more service lines can get underway shortly after the study is complete.
"We anticipate there will be another RFP soon using the additional $25 million the City of Flint recently received from the state," said Mayor Weaver. "The City has also received a $2 million grant from the state slated for service line replacement. The grant includes a provision stating the cost per address must be no more than $5,000, so that's another reason why this next pilot study is necessary and will provide valuable information as we work to get the lead out of Flint. We are making progress, it may not be happening as fast as many would like including myself, but it is happening. But, this is a very important process and we want to get it right."